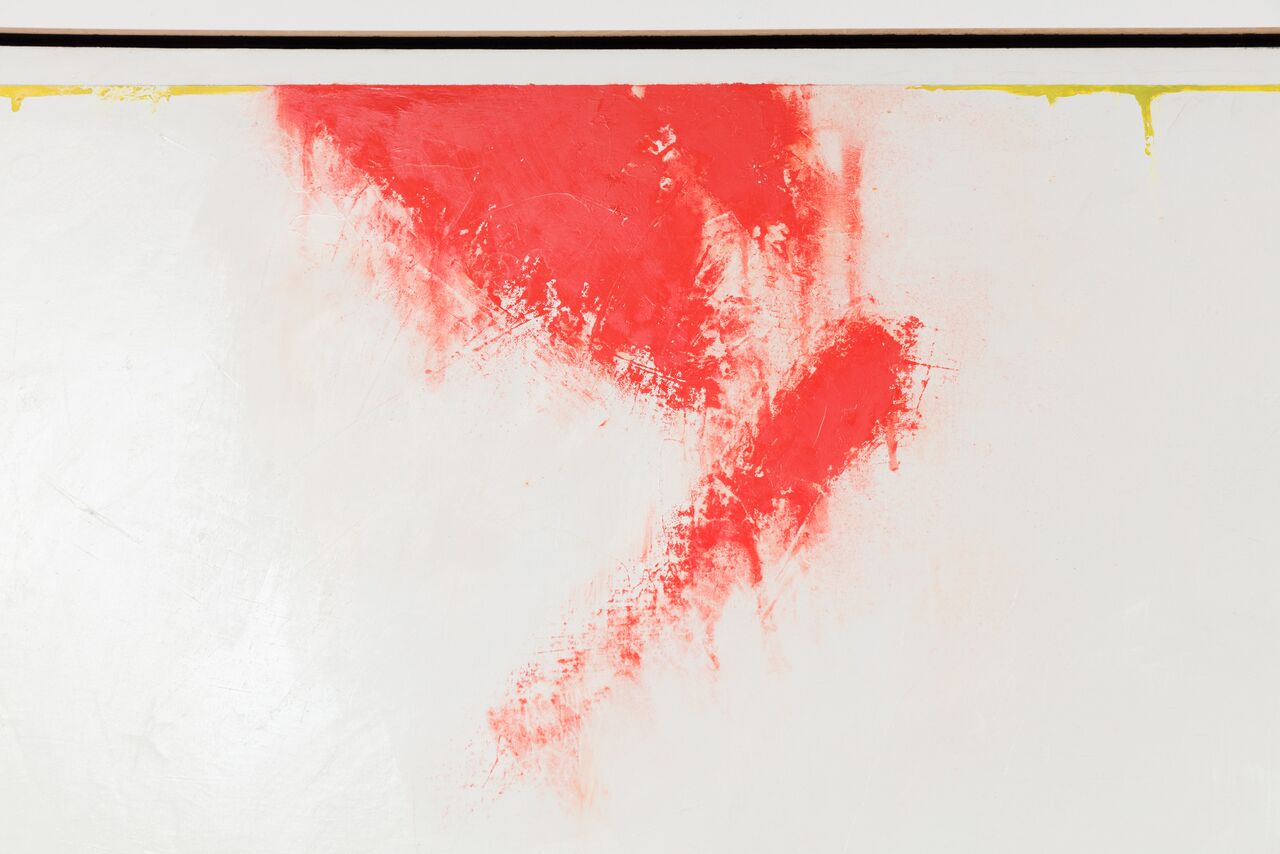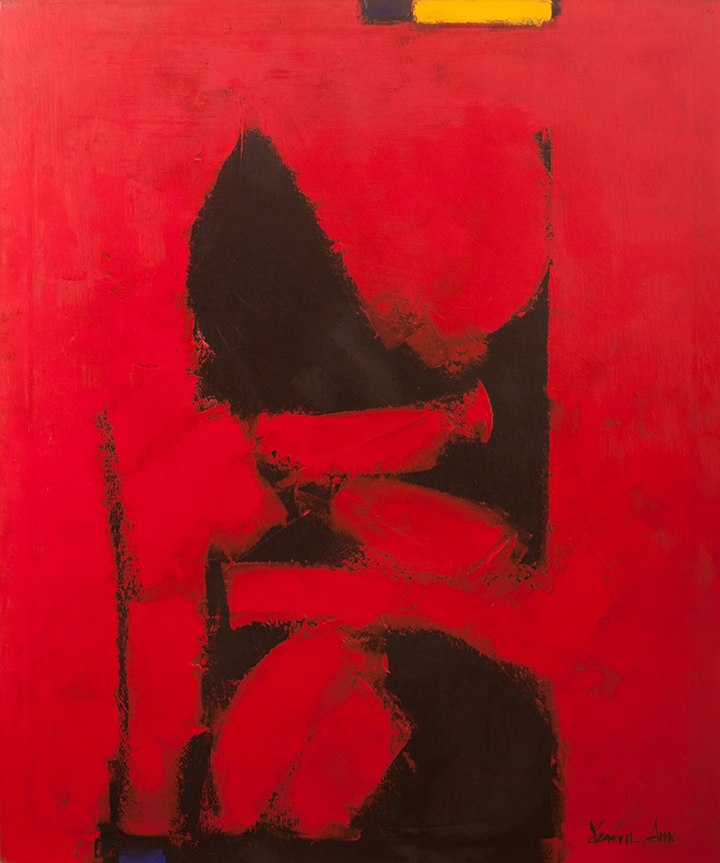 WATER AND MUSIC IN THE ART OF YOUNG-IL AHN
YOUNG-IL AHN'S WORK OF THE LAST SIXTEEN YEARS HAS BEEN INSPIRED BY THE THEME OF WATER. THE ARTIST'S CANVASES OF THIS PERIOD COMPRISE LARGE-SCALE ABSTRACTIONS THAT PRESENT AN AMAZING AND SEEMINGLY ENDLESS SERIES OF DEPICTIONS OF WATER AND THE OCEAN. DUE TO THE TRANSFORMATIVE EXPERIENCE OF ONCE BEING LOST AT SEA IN A SMALL BOAT ON THE PACIFIC OCEAN IN JULY 1983, YOUNG-IL AHN HAS SPENT MUCH OF THE PAST TWENTY YEARS EXPLORING THE INFINITE MANIFESTATIONS OF WATER IN A WIDE ARRAY OF COLORS AND TEXTURES, ALL EMBODYING AN UNAMBIGUOUSLY CONTEMPORARY AESTHETIC. DECEPTIVELY SIMPLE, HIS WORK IS IN REALITY COMPLEX, REFLECTING HIS RIGOROUS ARTISTIC DISCIPLINE, AND HIS PAINTINGS ENCOURAGE A MEDITATIVE STATE IN THE VIEWER. NOW IN HIS 80S, YOUNG-IL AHN IS ACHIEVING WIDESPREAD RECOGNITION IN KOREA AND ABROAD.
I RECENTLY SPOKE WITH YOUNG-IL AHN REGARDING HIS RECENT SERIES OF WATER PAINTINGS, AND THE RELATIONSHIP OF HIS WORK TO WATER AND TO MUSIC, TWO ASPECTS OF HIS WORK THAT ARE REMARKABLY CONSISTENT. I BEGAN BY ASKING MR. AHN ABOUT HIS UPBRINGING AND HIS PARENTS.
YOUNG-IL AHN WAS BORN IN SEOUL IN 1934. WHILE HIS GRANDFATHER WAS A FARMER, AHN'S FATHER WAS AN ARTIST SPECIALIZING IN SEMI-ABSTRACT PAINTING. BETWEEN 1910 AND 1945 KOREA WAS A COLONY OF JAPAN, AND IN THE 1930S AHN'S FAMILY MOVED TO TOKYO, LIVING IN HORIKIRI, AN AREA LOCATED IN THE KATSUSHIKA DISTRICT IN NORTHEAST TOKYO. IN JAPAN THE BOY REGULARLY ENCOUNTERED PAINTING AND ART BOOKS IN HIS FATHER'S STUDIO, AND HE BEGAN PAINTING AS A CHILD. BY THE AGE OF SIX AHN HAD HIS FIRST SOLO EXHIBITION IN TOKYO, AND WAS RECOGNIZED AS AN ARTISTIC PRODIGY. HIS MOTHER WAS A MUSICIAN WHO PLAYED AND TAUGHT PIANO, AND SINCE HIS CHILDHOOD, MUSIC HAS ALSO PLAYED A KEY ROLE IN AHN'S LIFE.
IN 1943, DURING THE SECOND WORLD WAR THE FAMILY RETURNED TO KOREA. AHN LATER MAJORED IN ART AT SEOUL NATIONAL UNIVERSITY, AND OFTEN SHOWED HIS WORK AT THE BANDO GALLERY, A VENUE THAT ATTRACTED THE ATTENTION OF MANY AMERICANS ACTIVE IN SEOUL DURING AND AFTER THE KOREAN WAR. IN 1957, THANKS TO THE ENCOURAGEMENT OF STAFF AT THE UNITED STATES EMBASSY, AHN WAS INCLUDED IN A GROUP EXHIBITION AT THE WORLD ART GALLERY IN NEW YORK CITY. IN 1966, AHN MOVED TO NEW YORK, WHERE HE CONTINUED TO EXHIBIT HIS WORK. A YEAR LATER HE MOVED TO LOS ANGELES, WHERE HE HAS LIVED AND WORKED EVER SINCE.
**
WHAT I ADMIRE MOST IN YOUNG-IL AHN'S WATER SERIES IS THE DYNAMIC TENSION BETWEEN THE ARTIST'S METICULOUSLY GEOMETRIC TECHNIQUE AND THE EXPRESSION OF THE FLUIDITY AND MAJESTY OF WATER, INSPIRED BY HIS LOVE OF THE PACIFIC OCEAN (THE CURRENT EXHIBITION AT LACMA INCLUDES WORKS RANGING IN DATE FROM 1997 TO 2016). IN THESE PAINTINGS, WATER MANIFESTS LIKE LIFE ITSELF – VAST, BOUNTIFUL, MYSTERIOUS, AND ALWAYS MOVING. HIS MYRIAD INTERPRETATIONS OF WATER ARE ALWAYS VARIED AND POWERFUL BECAUSE THEY EMERGE FROM A DEEP WELLSPRING OF EXPERIENCE, PHILOSOPHICAL AND METAPHYSICAL GROUNDING, AND EMOTION.
WHILE SHARING A CONSISTENT TECHNIQUE, EACH CANVAS IS COMPLETELY DIFFERENT; IN THIS REGARD AHN'S WORK IS THE COMPLETE OPPOSITE OF ANYTHING FORMULAIC. HIS PAINTINGS OF THE WATER SERIES ARE RICHLY TEXTURED AND LAYERED – AND DEEPLY MUSICAL IN THEIR RHYTHMS AND SENSE OF CONTINUOUS MOVEMENT.
SINCE WE SHARE A DEEP LOVE OF MUSIC AND ARE BOTH MUSICIANS, I ASKED MR. AHN ABOUT THE IMPORTANCE OF MUSIC IN HIS WORK. THE DISTINCTLY MUSICAL ASPECT OF AHN'S OEUVRE REFLECTS A LIFE-LONG INVOLVEMENT WITH MUSIC, STARTING IN HIS CHILDHOOD AND CONTINUING TO THE PRESENT. THE ARTIST IS CONSTANTLY SURROUNDED BY, AND INVOLVED WITH MUSIC. HIS STUDIO, LOCATED IN AN ENORMOUS OLD FACTORY BUILDING IN DOWNTOWN LOS ANGELES, HAS BEAUTIFUL WOODEN FLOORS, EXTRAORDINARILY HIGH CEILINGS, AND TALL WINDOWS THAT ALLOW FOR GENEROUS LIGHT IN THE SPACE. IN ONE CORNER IS HIS VAST COLLECTION OF CLASSICAL MUSIC RECORDINGS; IN OTHERS ARE HIS OWN MUSICAL INSTRUMENTS – A CELLO, A CLARINET, AND AN UPRIGHT PIANO. AHN'S LOVE OF MUSIC IS EVIDENT THROUGHOUT THE ENTIRE WATER SERIES, AND IS MADE ESPECIALLY CONCRETE IN HIS 2007 PAINTING, WATER MUSIC, A MIXED MEDIA WORK THAT INCORPORATES THE SHEET MUSIC FROM ANTONIN DVORAK'S CELLO CONCERTO IN B MINOR, OP. 104. HE CONTINUOUSLY SURROUNDS HIMSELF WITH MUSIC.
DURING OUR CONVERSATION, I ASKED AHN WHAT ADVICE HE WOULD GIVE TO A YOUNG, ASPIRING ARTIST. WITHOUT HESITATION HE REPLIED: "LEARN TO DRAW." HE FEELS STRONGLY THAT WITHOUT A SOLID FOUNDATION IN DRAWING, IT IS IMPOSSIBLE TO BECOME A MATURE ARTIST. I WAS IMMEDIATELY REMINDED OF THE ABSTRACT EXPRESSIONIST PAINTER WILLEM DE KOONING (1904–1997), WHOSE OWN TALENT FOR DRAWING ALSO EMERGED AS A CHILD, AND WHOSE LATER TEACHER AT ROTTERDAM'S ACADEMIE VAN BEELDENDE KUNSTEN EN TECHNISCHE WETENSCHAPPEN, JOHANNES HEYBERG, INSISTED THAT THE STUDENTS MASTER DRAWING SKILLS, FOCUSING ON "DETAILED EXACTITUDE AND PRECISION REPRODUCTION." AS AHN INDICATED, ONE MUST LEARN TO WALK BEFORE LEARNING TO RUN. THE ARTIST'S GROUNDING IN CLASSICAL DRAWING TECHNIQUE PROVIDES THE BASIS FOR HIS REMARKABLE ABSTRACT PAINTINGS.
WE ENDED OUR CONVERSATION DISCUSSING THE IMPORTANCE OF WATER IN ANCIENT EAST ASIAN DAOIST COSMOLOGY. OF THE FIVE ELEMENTS AS CONCEIVED IN BRONZE AGE CHINA — FIRE, WOOD, EARTH, WATER, AND METAL — WATER HAS PLAYED THE MOST IMPORTANT ROLE. WATER IS MENTIONED SEVERAL TIMES IN THE EARLIEST CLASSICAL CHINESE TEXT TO DISCUSS THE DAO (OFTEN TRANSLATED AS THE WAY): THE DAODE JING / 道德經, ATTRIBUTED TO THE SAGE LAOZI. THE TEXT INCLUDES THESE PASSAGES, WHICH SUGGEST THAT HUMAN BEINGS IMITATE WATER:
THE HIGHEST GOOD IS LIKE THAT OF WATER.
THE GOODNESS IS THAT IT BENEFITS THE TEN THOUSAND CREATURES;
YET ITSELF DOES NOT SCRAMBLE,
BUT IS CONTENT WITH THE PLACES THAT ALL MEN DISDAIN.
IT IS THIS THAT MAKES WATER SO NEAR TO THE WAY [DAO].
ELSEWHERE THE DAODE JING POINTS OUT THE DECEPTIVE POWER OF WATER, WHICH CAN OVERCOME MUCH HARDER MATERIALS — FOR EXAMPLE, STONE:
NOTHING UNDER HEAVEN IS SOFTER OR MORE YIELDING THAN WATER; BUT WHEN IT ATTACKS THINGS HARD AND RESISTANT THERE IS NOT ONE OF THEM THAT CAN PREVAIL. FOR THEY CAN FIND NO WAY OF ALTERING IT.
THE CENTRAL ROLE OF WATER IN ANCIENT CHINESE CREATION MYTHS IS FURTHER REVEALED IN A RARE TEXT UNKNOWN PRIOR TO ITS EXCAVATION IN 1993 FROM A CHINESE WARRING STATES PERIOD (CA. 300 BC) TOMB IN HUBEI PROVINCE, KNOWN AS THE TAIYI SHENG SHUI (SUPREME UNITY GAVE BIRTH TO WATER / 太一生水):
SUPREME UNITY [I.E., THE DAO] GAVE BIRTH TO WATER. WATER RETURNED AND ASSISTED SUPREME UNITY (TAIYI), IN THIS WAY DEVELOPING HEAVEN. HEAVEN AND EARTH [REPEATEDLY ASSISTED EACH OTHER], IN THIS WAY DEVELOPING THE GODS ABOVE AND BELOW. THE GODS ABOVE AND BELOW REPEATEDLY ASSISTED EACH OTHER, IN THIS WAY DEVELOPING YIN AND YANG.
IN THE DAOIST TRADITION, WATER IS ALSO A SYMBOL OF THE UNIVERSE AS A WHOLE, AND OF THE ACTIONS OF THE DAO – THE EMPTY VOID FROM WHICH ALL THINGS SPRING.
YOUNG-IL AHN'S PAINTINGS OF THE WATER SERIES MAGNIFICENTLY CAPTURE THE PRIMORDIAL ESSENCE OF WATER. HIS WORKS ARE POWERFUL AND SUCCESSFUL BECAUSE THEY ARE ROOTED IN BOTH ANCIENT EAST ASIAN METAPHYSICS AND THE ARTIST'S EXPERIENCE OF THE CONTEMPORARY WORLD. THE LOS ANGELES COUNTY MUSEUM OF ART IS DELIGHTED TO PRESENT HIS SUPERB SELECTION OF THE KOREAN-AMERICAN MASTER'S WORK TO OUR LOCAL, NATIONAL, AND INTERNATIONAL AUDIENCES, AND WE WISH YOUNG-IL AHN EVERY SUCCESS IN HIS WONDERFUL AND CREATIVE LIFE.
STEPHEN LITTLE
CURATOR AND HEAD, KOREAN ART DEPARTMENT
LOS ANGELES COUNTY MUSEUM OF ART
[1] Translated in Arthur Waley, The Way and Its Power: A Study of the Tao Te Ching and Its Place in Chinese Thought (New York: Grove Press, 1958), chapter 8.
[2] Ibid., chapter 78.